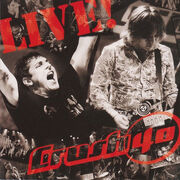 Live!
is the first live album created by
Crush 40
. Twenty-four songs were performed lively at the Guilty Live Stage in Shibuya, Tokyo on March 2012, but not every song appeared in either the physical CD or digital releases.
The physical disc was released on October 10, 2012 in Japan only. The digital version was released on iTunes and Amazon MP3 on December 11, 2013. The physical version and the digital version had their own track list, with the digital release having more songs.
Track Listing
Edit
CD track listingEdit
Digital track listingEdit
"Fire Woman" (The Cult cover) and "Everything" (Hardline cover) were omitted from the digital release.
Personnel
Edit
When this album was recorded, there were 24 songs but one of the songs they played on stage, "Everything" (Hardline cover) was omitted from both the CD and digital releases.
Ad blocker interference detected!
Wikia is a free-to-use site that makes money from advertising. We have a modified experience for viewers using ad blockers

Wikia is not accessible if you've made further modifications. Remove the custom ad blocker rule(s) and the page will load as expected.